Summary of the week:
2-15min. Jogs
15min. P90X Ab Ripper X
60min. Cardio
30min. Abs & Thighs (Swiss Ball Bliss Workout)
30min. Cardio
30min. Cardio 2
30min. Total Body Stretch
12min. HIIT Total Body Workout
MFS Suggests…
---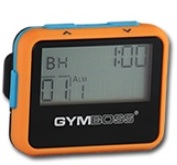 Gymboss Interval Timer – NEW DESIGN -
Better Workout. Better Results.
The GYMBOSS is a small, easy to use, repeating interval timer. This multi-use timer has many versatile functions that make it beneficial to virtually any type of exercise program. Start working out like a pro and reaching your goals TODAY!
Get your Gymboss in the color of your choice HERE