(watch this video on YouTube and SUBSCRIBE to our Channel for regular Workout Video Updates)
Heya #MFSTribe
We've been working on something juicy behind the scenes… 
Along with some amazinggg trainers –  Max Powers & Jen Rochon,  I've been COOKIN` up a FREE Video Workout Challenge that you will be able to join THIS WEEK ALREADY (starting October 23rd)! Can I hear a WOOT WOOT!?
>>> SCROLL DOWN TO VIEW WORKOUT LINKS!
This upcoming video workout series is all about GETTING BACK TO BASICS folks. No use to wait for the upcoming New Year to set a new and empowering habit – this is YOUR LIFE, YOUR BODY, YOUR HAPPINESS & self-care is the BEST INVESTMENT EVER!
Max Powers and Jen will coach you through workouts that are Practical, Functional & SUPER Effective. You`ll be able to take your training anywhere with you, as these workouts do not require any equipment. The exercises are suited to all levels of fitness (for the "fit rats" out there – you will be challenged, give it your 100% and focus on impeccable form. This will help you build up a stronger foundation, preparing you for what is yet to come, and in turn, bringing you better results on the long run)!
Our focus is always on building a strong foundation and perfecting your form in order to prevent injury & build true strength and functionality. There are no quick fixes to building your dream body & improving your health overnight but with commitment and dedication, you will certainly FEEL THE RESULTS after taking this challenge! It`s a promise!
If you`re ready for a TOTAL MIND-BODY FALL RESET & you want to feel A.M.A.Z.I.N.G jump on board sisters and brothers (yes this challenge is suitable to both genders).
It`s time to set new powerful routines for the new season!
It`s time to TONE UP, DROP OFF THOSE STUBBORN 5-10-20+ POUNDS & BOOST YOUR ENERGY AND HEALTH level – without a strong, healthy and happy MIND & BODY – it is hard to carve an exciting, stimulating & "all-that-you-can-dream-of" lifestyle!
READY to OWN your BODY? Like you mean it…
I hope to see you on board of the #OwnYourBody challenge – Share your workouts and progress along the way using hashtag #OwnYourBodyMFS via social media!
Until then, get moving, get yourself a cute outfit, maybe a cool exercise mat & I will see you on the other side friends 😉
Click on the links below to view Workouts
>> SUBSCRIBE to our mailing list – Receive your Free Workout Logs to go Along this or any Challenge!
Need a jump start?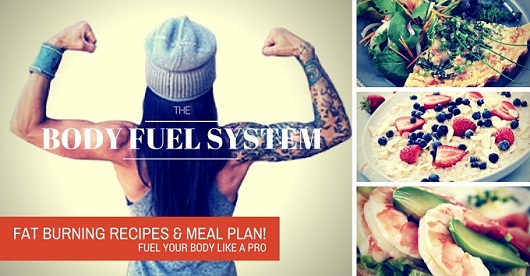 Grab a copy of The Body Fuel System & learn how to FUEL your Body like a PRO – no fad diet or deprivation, just real food & an eating blueprint that works for YOU!